Tracing the discursive effects of cyber – new paper by CIHR researchers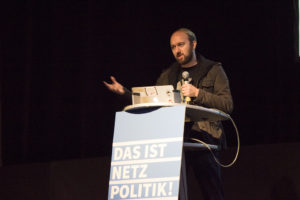 Cyber is everywhere. Although it is hard to grasp what it actually means, the term is widely used in debates about digital communications technology. As our study reveals, in fact using the term cyber is closely linked to processes of (in)securitization.
In a new paper entitled Was macht Cyber? Epistemologie und Funktionslogik von Cyber (in German), Ben Wagner and Kilian Vieth examine the functional logics behind the terms cyber and 'cyberspace'. After giving an overview about the origins of these two terms, the article studies how cyber has become a powerful metaphor for securitization.
Digitization is pervasive and coded objects have penetrated all areas of life. Clearly defined terms like "IT security" have been replaced by the fuzzy notion of 'cybersecurity'. The authors claim, that this process allows security actors to securitize perceived threats. This is because, cyber obscures both the physical infrastructure and the social and political practices that construct the internet.
To conceptualize the direct connection between cyber and security, the paper outlines the idea of 'cyberfication'. Police, military and other actors in the field of security policy tend to use the term cyber extensively, while it is less used in other policy fields. Therefore, cyberspace is today associated with an elusive sphere of (in)security, shaped by cybercime, cyber foreign policy, and cyberwar. This connotation broadens and deepens the concept of security significantly. While the goal is to produce more security, new vaguely defined cyber threats are constructed that create a feeling of insecurity at the same time.
NOTE: The term cyber has been used 17 times in this article. We hope that it didn't make you feel more insecure.
Access the paper here.
See full list of CIHR publications. More about CIHR's research on technology in international relations.