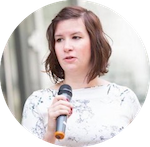 Regina Sipos works at the intersection of tech and social good: as an entrepreneur, public speaker, mentor, and an advocate for openness and inclusion. So far, she has successfully incubated 80+ social-tech startups worldwide and is looking forward to working with many more.
She is the Founder and Director of the Social-Digital Innovation Initiative, promoting and supporting the cross-pollination of the world of technology and social entrepreneurship and the creation of financially sustainable social businesses. She is also a Scientific Staff member and PhD candidate at the Technical University Berlin. 
Previous roles include Innovation Programmes Manager at the International Telecommunication Union (ITU), where she founded the Young Innovators Program (the first co-creation and ideation platform of the United Nations) and the management of social-digital programs, such as the Google Impact Challenge Germany accelerator program for Ashoka Germany.
Websites: https://reginasipos.net, https://sdinnovation.org
Twitter: @reginasipos, @SDInnovation