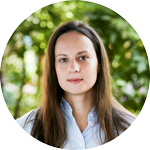 Joanna Bronowicka  is a sociologist who conducted research on human rights, digitisation, migration, social movements and political participation.
Joanna led the Centre for Internet & Human Rights from 2015-2018 as a Director. Before joining the CIHR, she had worked for the Ministry of Administration and Digitisation in Poland, where she contributed to the development of Polish digital strategies and policies. She had also previously worked as a journalist at Thomson Reuters in Warsaw, as a diplomat at the Ministry of Foreign Affairs of Poland and as a consultant for migrant NGOs in Warsaw, Paris, and Boston. In Germany, she has conducted courses on digital diplomacy for Institut für Auslandsbeziehungen-Akademie and the Heinrich Böll Foundation.
Joanna holds a B.A. in Social Studies from Harvard College and M.A. in Sociology with a specialisation in Public Policy and Administration from Collegium Civitas in Warsaw. She also studied political science at Sciences-Po and philosophy at the Sorbonne in Paris.
More about Joanna on her personal website: https://www.joannabronowicka.eu/
fot. M. Radwański