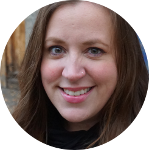 Jillian C. York is a researcher, writer, and activist. Her research interests include commercial content moderation, government and intermediary censorship, and digital security.
She currently serves as Director for International Freedom of Expression at the Electronic Frontier Foundation and as a member of the Board of Directors of Global Voices and the IFEX Council, as well as on the Advisory Board of Lebanese digital rights organization SMEX. She is a founding member of the Deep Lab collective. In the past, she worked at the Berkman Center for Internet & Society.
Jillian's research has been published in the Journal of Communications and the Arab Studies Journal, and her byline has appeared in a range of publications, including the New York Times, Die Zeit, and the Guardian.