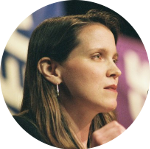 Abigail Garner is an independent consultant, writer, and editor from Minneapolis, Minnesota (U.S.A.) living in Berlin. She holds a master's degree in organizational leadership (M.A.O.L.) with a concentration in dispute resolution. She earned her B.A. in anthropology from Wellesley College.
Since moving abroad in 2010, her projects have criss-crossed disciplines and topics, including online privacy, internet governance, disability rights, women's rights, refugee services, and responsible tourism. A long-time advocate for LGBT equity, she is the author of the non-fiction book, Families Like Mine: Children of Gay Parents Tell It Like It Is.
As a CIHR Fellow, Abigail's research is exploring how the Telemedia Act of 26 February 2007 (Telemediengesetz) affects freedom of expression and privacy rights for underrepresented and marginalized bloggers in Germany.